The Independent Party is about debate–and also about friendship, community, and fun. Our regular events and get-togethers help build the strong social connections that foster our passionate yet friendly debates.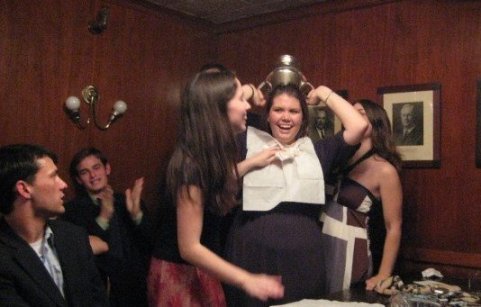 We also host a Mory's toasting session, an old Yale tradition and an unforgettable experience, about once a month. 
The IP has Sunday dinner in a residential college dining hall every week, eats greasy food at Yorkside after debates, and hosts countless informal parties, movie nights, television viewings, and dance parties. 
On our semesterly New York trip, we meet with prominent politicians, businesspeople, artists, media personalities, and cultural figures. The all-day excursion begins bright and early, and has recently showcased guests like Mad Money host Jim Cramer, 12-term Colorado congresswoman Patricia Schroeder, ACLU Executive Director Anthony Romero, UN Ambassador John Bolton, and the late William F. Buckley, Jr. We finish off the day with an off-broadway play. 
All of us will tell you that the IP makes the line from "Bright College Years" come true: "time and change shall naught avail, to break the friendships formed at Yale." Everyone is welcome at our events. We hope you will join us!